Our Team
President Tamara Sztorc:

Education: BCom. '12, McGill
Career: Business Consultant at Trade Commission of Poland in Canada and UTV International
Having recently completed a degree in Economics at McGill, Tamara is currently working as a business consultant for the Trade Commissioner's Office of Poland in Canada. She is an important member of the Polish community in Montreal. Her involvement includes 13 years at the John Paul II Polish School, being a finalist at the prestigious Poloniada contest (Warsaw, 2006), and over 15 years of active membership in ZHP Kanada (Hufiec Ogniwo). During her university years, Tamara was VP Marketing of the McGill Polish Student's Association and VP Delegates for the Desautels Business Conference on Sustainability in 2011. She also spent a semester abroad at the IÉSEG School of Management in Lille, France. In her free time, Tamara enjoys reading, travelling and organising international conferences.
Co-Chair Amanda Chalupa:

Education: B.A. Psychology & History '12, McGill
Career Prospect: Clinical Psychologist
Amanda is pursuing her graduate work at McGill in Social and Transcultural Psychiatry. She is studying refugee children and various psychological concepts related to Polish people who were children in the Soviet gulags of WWII. She is the President of the Canadian Foundation for Polish Studies, has done Polish folk dancing, organized Polish history lectures, collaborates of the Kresy-Siberia Foundation, and advises on a film about the Sybiracy. Her research has brought her on an exchange at Stanford University (2010), work trips to Australia, and various conferences across Europe. In her spare time, she enjoys experimental cooking and getting lost in new cities.
Co-Chair Artur Klima:

Education: B.Sc '12, Concordia
Career: Life Insurance Consultant, Industrial Alliance
Since a very young age, Artur has been an active member of Polish scouting under the Orlęta Hufiec, becoming an instructor as well as organizing and helping to run many summer camps. Organization and resourceful skills proved a strong factor in the conducting of scouting events as well as the development of interpersonal skills. He also danced in Polish folk group Podhale, and worked at Polish restaurant Stash Café in Montreal's Old Port. Working in the service industry greatly developed teamwork and leadership qualities. Artur's hobbies include playing multiple instruments including piano, guitar and bass as well as volleyball, rock climbing, squash and swimming.
Logistics Agatha Czyzykiewicz:

Education: Office System Technology Micropublishing and Hypermedia '11, Vanier College; Event Planning, Zoom Academy
Career: Graphic Designer at Standard Pro.
Agatha is very active in the Polish community. She has been in the Polish Scouting Association for 14 years, in which she occupied many positions and helped in Polish events such as the Polish Festival in Montréal. She is currently the Regional Commissioner of the Montreal Girl Guides (Hufiec Ogniwo). In her spare time she enjoys everything that is associated with the following words: adventure, food, laughing.
PR Consultant Dobromir Jastrzebski:

Career: Event Coordinator and PR Consultant
Student at the School of Community and Public Affairs at Concordia University and in Project Management at the Hautes Études Commerciales of Université de Montréal. Dobromir has been involved in the Polish community since his days in Harcestwo. From teacher, translator, rock climbing instructor event coordinator, "Dobz" has lived and learned from all 4 sides of the coin of life.
Recruitement Director Aleksandra Bobrowski:

Education: BSc. Anatomy and Cell Biology Candidate, McGill
Aleksandra is currently studying at McGill University majoring in Anatomy and Cell Biology and minoring in Kinesiology. Before you ask, yes, she is half Polish, her olive skin and dark features betraying her Peruvian nationality. Ola has done Polish folklore since she was little, belonging to dance groups Podhale (Montreal) and Polonez (Hamilton). As many other QV5 execs, she is also a proud member of the Polish Scouting Association (ZHP). Ola loves meeting new people so do not hesitate to contact her – she will be glad to spread the contagious excitement vibrating from the whole exec board!
Sponsorship Director Marek Rymarz:

Education: BCom '07, Concordia
Career: National Account Manager, Tax & Accounting Corporate at Thomson Reuters
Marek is currently pursuing graduate studies in Taxation at McGill University and his work experience includes financial/sales roles within various financial institutions. Marek was the VP Finance at the McGill Polish Student Association (MPSA) in 2008 and participated in the Ottawa Quo Vadis conference in 2009. His volunteer experience also includes several years of involvement within student clubs such as the TD Bank "Economics of Staying in School" program, AIESEC Concordia, the N.D.G. YMCA and the Vanier College Student Association. His interests include tennis, golf and mountain biking.
Technology Director Paul Tomaszewski:

Education: Computer Science '12, John Abbott College
Career: Programmer and Web Developer
Paul is currently completing his Bachelor of Technology degree at Memorial University of Newfoundland. For over a year, he was working full time as a software developer at Haivision, a multinational technology corporation. For many years he attended Jan Paweł II Polish Saturday school. In 2006 he took part in Poloniada contest in Poland, and won first place in his category. Paul is passionate about computer programming, scripting, and web development. He works with a dozen different programming languages, such as PHP, Java, C++, Perl, Python, or Shell scripting. One of his current projects is CosmoBC.com, a news website with a special focus on science, technology, and business. In his free time he enjoys reading about history and astronomy.
Social Media and Communications Coordinator Adam Hops:

Education: B. Sc. '12, McGill
Career: Food Safety and HACCP Consultant; Auditor of Airline Catering Facilities
Before becoming a consultant, Adam was a research assistant at the McGill Centre for Bioinformatics. He worked on computational analysis for Phylo, a DNA sequencing videogame. As Social Media and Communications Coordinator for Quo Vadis, he is in charge of managing all of the communiqués, e-mails and posts that you have probably seen or received so far. He is also VP Internal for Polska Inicjatywa Studentow w Kanadzie (PISK: Montréal Branch) and planning to energize the Montréal Polish-Community with some new projects. Though his educational background is in science, specifically microbiology and immunology, he has a soft spot for literature, languages and sociology.
VP Delegate Relations Szymon Sekscinski: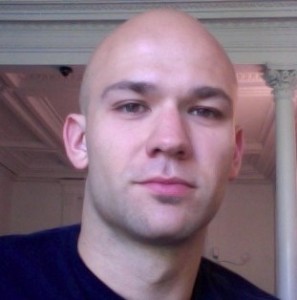 Education: Construction Engineering Manager '05, George Brown College; BCom '12 Concordia
Career: Founder and Entrepreneur at King Athletic
Designing a career that combines a long-term interest in creating value, autonomy and empowerment through social media and eCommerce is what Szymon is all about. He has substantial experience working as a Project Manager and Estimator in the Toronto and Montreal construction industries. Currently, Szymon's main effort is the development of King Athletic, a brand of high quality sporting accessories distributed online in the United States. Szymon's presence in Polish-Canadian community includes membership of the Polish Scouting Association (Szczep Baltyk, Toronto), where he continues to organize camps and international excursions in Montreal. Szymon also completed Liceum at the Polish consulate in Toronto. Balancing his career with a playful lifestyle, Szymon enjoys playing the guitar, snowboarding, volleyball and swimming.
Marketing and Promotion Anna Tomaszewski:

Education: Bachelor of Arts and Science, Specialization in Early Childhood and Elementary Education candidate, Concordia
Anna is very involved in the Polish community. She volunteers at various Polish events and was lately elected VP Academics of Concordia Polish Students' Association. Anna attended Jan Pawel II Polish Saturday school, where she worked as a teaching assistant after graduation. She has also volunteered at educational institutions, including Catherine-Soumillard Primary School. Her active involvement in a preschool program at Saint Columba House for low-income students helped her further develop her teaching skills. As a member of the Best Buddies' organization, Anna has also supervised and befriended students with intellectual disabilities. She also helps with the organization of food banks with the St. Vincent de Paul Society. In her spare time, Anna enjoys reading, baking, and ballroom dancing.
Marketing and Promotion Sara Tomaszewski:

Education: Doctor of Medicine and Master of Surgery (MD, CM) candidate, McGill
Career Prospects: Work with the elderly as a geriatrician
Sara is very active in her community. She attended Jan Pawel II Polish Saturday school, where she participated in many contests and performed in plays. Sara is also involved at her parish, where she helps organize food banks in collaboration with the St. Vincent de Paul Society. She is part of the Best Buddies' organization and volunteers in long-term care, both at a hospital and a nursing home. She fundraises for the Alzheimer Society of Montreal, being very concerned about the quality of life of elderly patients. Sara also expresses her passion for sciences by writing articles for S.P.A.C.E., an interdisciplinary online magazine, and by working as an editor for a scientific journal, DrJes.
Treasurer Karol Antoni Ussakowski:

Education: BA Political Science candidate, Concordia
Career: Editor-in-Chief, Scandal Magazine
Karol is a former journalist, Business Manager and Features Editor at The Plant, an affiliated newspaper with the Canadian University Press and current Editor-in-Chief at Scandal Magazine. For the past two years, he has been on the organizing committee for Montreal`s St-Andrews Ball and is the Advocate and Youth Director for the first Canadian council of the Knights of Columbus. He is the former Sergeant-Major of the Black Watch (R.H.R) of Canada Cadet Corps and the Olde 78th Fraser Highlanders. Karol dedicates his spare time to his love for history, arts, fencing, journalism, and Polish Culture. He is also a proud member of the Polish Nobility Association and the Olde 78th Fraser Highlanders Montreal Garrison.
Web Designer Lindsay Adams:

Education: Associate Diploma in Graphic Design '95, Hornsby TAFE, Sydney Australia; Studying Web Development, John Abbott College
Career: Graphic Designer and now, Web Developer
Lindsay was born and raised in Sydney, Australia. He has been working as a graphic designer in Sydney since 1996 until taking time out to study Web Development. He always dreamed of becoming a great website developer. So, he took a year off after moving to Montreal with his wife and baby daughter in July 2012 to study Web Development and spend any extra time with his cheeky 1 year old! For QV5 he created the new web page layout, design, and helped create the HTML/CSS styling of the new site template. He is offering his services to QV5 for free to gain experience designing and building websites.
Editor Marta Mazur Rusak:

Education: M.L.I.S. '13, B.A. Honours '11, McGill
Career: Information Professional
Marta has recently finished a Master's in Library and Information Science. She specializes in knowledge management, business information and competitive intelligence. She has worked at Pricewaterhouse Coopers as well as being past president of the McGill Polish Student's Association and working at the Biblioteka Polska w Montrealu. She sits on several committees and plans to vastly improve her database skills. Currently Marta works at the Westmount Public Library, and tries to get some belly dancing, gym and reading in between her plates of pierogi.
---
Individual Thank You:
Agatha Kowalski
Alexander Chodak
Andrzej Jarosz at Biuletyn Polonijny
Bożena Szara at Radio Jedynka
Diana Skaya
Gregory Prokopski
Jan Prawdzik
Jeremi Duszynski
Karolina Arys-Wyszomirski
Klara Pokrzywko

Malgosia Gawrys
Marta Czyzykiewicz
Natalia Dmuchowska
Ola Tomczak
Paulina Pedziwiatr
Quo Vadis Chairmen Club
Sandi Kosiorowski
Vanessa Szopski
Veronika Rydzewska
Zygmunt Wasilewski at Kronika Montrealska